Greetings in a post-election Latvia. While the newly elected parties hold constructive conversations on forming a functional government, FICIL is engaging in productive conversations of its own – mainly with our members on the changes in the investment climate and business environment in Latvia. FICIL Sentiment Index interview portion of the research is nearing its end, so stay updated for more information on the launch event coming soon.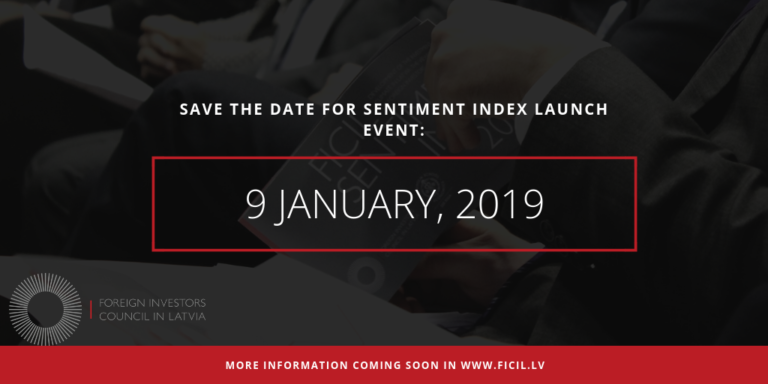 ---
Newly elected Parliament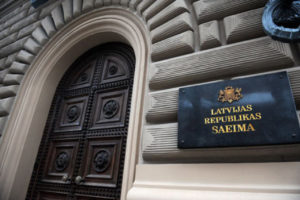 At the beginning of the month we saw a riveting finale to a lengthy election season. Now comes the period of forming a government and outlining
specific goals for the country. In this regard, FICIL has held meetings with several elected parties to discuss their political programs and stances on key issues. During these meetings we have emphasized our work group position papers as a source of recommendations for further steps the government should take.
---
FICIL members in action
October was a busy month not only for FICIL but also for many international organizations that carry out annual fact-finding missions to gather information for yearly research projects that are released at the beginning of the following year.
FICIL board members and work group leaders have participated in many interviews with representatives from the OECD, International Monetary Fund, European Commission and more. This cooperation is highly valued as it means FICIL has the opportunity to convey the investors perspective on progress being made in Latvia across different sectors.
---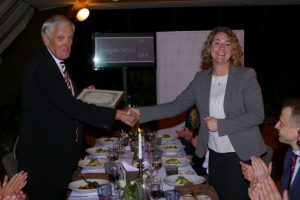 Julia Sundberg, our chairperson of the Board, attended BritCham Dinner as an honorary guest and spoke about Latvia's competitiveness for foreign investment. Vice chairperson of the Board Zlata Elksniņa-Zaščirinska attended OECD meeting with social partners as a part of the OECD Economic Survey of Latvia. FICIL executive director Marta Jaksona held a meeting with UNHCR representatives to discuss integration of 3rd country nationals including refugees and asylum seekers in the labour market, as well as took part in the European Semester meeting on competitiveness of Latvia.
---
Labour issues work group co-leaders Irina Kostina and Andris Lazdiņš have been an active component of the Social affairs and employment matters committee meetings at Saeima, representing FICIL views on overtime payment legislation, as well as participating in LTRK regional business forums. Māris Vainovskis, however, took part in the European Semester visit to Latvia, talking about the effectiveness of the justice system.  Furthermore, FICIL Digitalisation work group member Valts Kārkliņš attended a conference on Latvia as a digital nation organised by the Ministry of Environmental Protection and Regional Development of the Republic of Latvia, while the Economic and Financial crime issues work group's leader Ulvis Jankavs participated in the European Semester meeting on anti-money laundering, as well as informed the International Monetary Fund on the challenges and developments regarding insolvency proceedings.
---
Update on FICIL work groups
With clear goals the work groups wish to achieve in place, we are now going full speed to try and answer many topical questions the investors have raised in the initial work group discussion.
---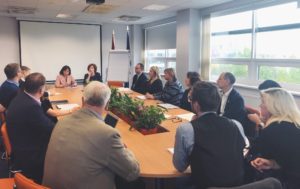 Labor issues work group held an informative meeting with deputy head of the Office of Citizenship and Migration (PMLP) – Ms Maira Roze, as well as the head of the Migration section at PMLP – Ms Ilze Briede. FICIL is very grateful for the time and undivided attention given to our investors. Questions were answered in detail, as well as future cooperation was mapped out with the possibility to give our input in amendments to regulations in a timely manner.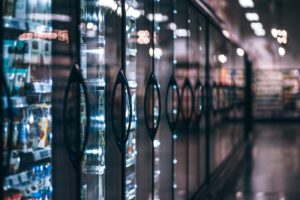 ---
On the same note, Food&Drink Industry work group gathered to keep the conversation rolling on food labelling in Latvia. Ministry of Agriculture representative, Ms Gunta Evardsone, attended the latest meeting to inform FICIL members on the stance of Ministry of Agriculture in this regard, as well as talked about different food labelling schemes in the European Union.
---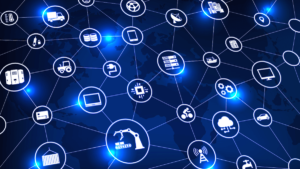 Digitalisation work group is very active moving forward with the outlined goals for this season. Deputy secretary of state of the Ministry of Economics Mr Raimonds Aleksejenko will be participating in the next work group discussion to talk about digitalization in the public sector.
---
Meetings of the other work groups will be announced in due course. If you have any questions regarding the above-mentioned information, please contact us at ficil@ficil.lv
-Your FICIL Team