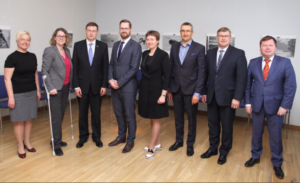 In preparation for the FICIL High Council meeting with the Latvian government, which will take place on 30-31 May, FICIL Board members met with the Vice-President of the European Commission Mr. Valdis Dombrovskis.
FICIL and Mr. Dombrovskis had a fruitful discussion on European Semester and the latest economic developments in the EU, as well as European Commission recommendations. FICIL in its turn outlined the main proposals which will be presented to the Cabinet of Ministers next month.
FICIL and Mr. Dombrovskis could agree on many different topics, including the modernisation of governance model for universities to meet the demands of the labour market, increased focus on the digital agenda, improving competitiveness of Latvia by attracting investments as well as defining the future vision for Latvia.