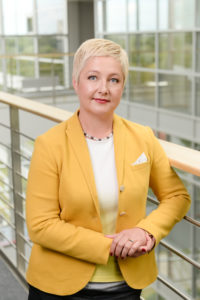 Gunta Jēkabsone, executive director of fuel retail company Circle-K, has been elected as the Chairperson of Foreign Investors' Council (FICIL) in Latvia Board.
She replaces Julia Sundberg, the previous Head of energy company Fortum business in Latvia, who has now moved away from Latvia to continue her career in an energy company in Ukraine.
Gunta Jēkabsone: "FICIL is an organization, which enjoys excellent reputation and its opinion is respected by decisionmakers and partners. I am honoured to assume leadership of such an organization, also because 20 years ago when FICIL was established, Circle-K was one of its founding members. My task will be to ensure that our dialogue with the public administration remains just as constructive, enabling us to fulfil our common mission to shape Latvia as the most attractive destination for foreign investment in our region."
Gunta Jēkabsone works in FICIL Board since march, 2018. Ints Krasts, Board member of SEB bank and Māris Gruzniņš, Board member of Schwenk Latvija, will continue their work in FICIL Board as Vice-Chairmen.
FICIL is a non-governmental organization, which unites largest foreign-owned companies from different industries, foreign trade chambers and Stockholm School of Economics in Riga. FICIL's mission is to use the experience and knowledge of its members to provide recommendations for public sector to improve Latvia's business environment and competitiveness in attracting foreign investment.
Since the establishment of FICIL in 1999, a high-level meeting between foreign investors and Latvia's government takes place each spring to discuss the most important tasks for bettering Latvia's business environment. This year the High Council meeting took place on May 30-31, where improving access to labour and introducing a new governance model for universities were stressed by FICIL as the most important priorities.