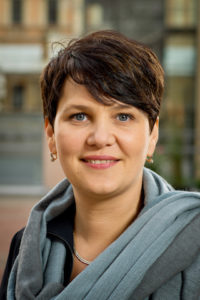 08.03.2018.
At the meeting of the Executive Board of Foreign Investors' Council in Latvia (FICIL) on 7 March Zlata Elksniņa-Zaščirinska (Chairperson of the Board and Leading partner at PwC Latvia) was re-elected as the Chairperson of the FICIL Board. Mrs Elksniņa-Zaščirinska has been re-elected for the fifth consecutive year. According to the FICIL statutes, a person can hold the position of a board member no longer than six consecutive years, therefore this will be the last year for Zlata Elksniņa-Zaščirinska at the FICIL Board. Julia Sundberg, Member of the Board of Fortum, was elected as a Vice-Chairperson of the FICIL Board.
Zlata Elksniņa-Zaščirinska: "As we see it, currently the most important thing is to create trust between the private and public sector; therefore the main theme for this year is 'Building Trust'. It is important to continue to work on the so-called hygiene issues – areas where investors still have serious concerns: prompt and high-quality investigation of corruption and economic crimes, clear and timely actions from the law enforcement institutions. There is a need for "surgical intervention" to remove these "tumours". At the same time, it is important to formulate a long-term vision for the country and specify competitive advantages of Latvia. Therefore, with our expertise, we will continue to be a constructive partner for the Government and will continue to work on specific suggestions to improve Latvia's attractiveness for investors, for example, to facilitate the attraction of foreign labour, modernize and digitalize public services, and continue higher education reforms."
The other FICIL Executive Board members are: Gunta Jēkabsone (Executive Director of Circle K in Latvia), Ingrīda Kariņa Bērziņa (Vice President of the American Chamber of Commerce), Māris Gruzniņš (Board Member at CEMEX), Baiba Zūzena (Chairperson of the Board at All Media Baltics), Alf Erik Lundgrenn (Chairman of the Norwegian Chamber of Commerce in Latvia) and Ints Krasts (Member of the Board of SEB Bank).
The Chairperson of the FICIL Board is elected for one year; the main responsibility is to lead the work of the Board and represent the interests of more than 50 corporate and associate members of FICIL. The day-to-day business of the organization is managed by Marta Jaksona, Executive Director of FICIL. Members' interests are represented in more than ten FICIL work groups, such as Education, Economic and Financial Crime, Digitalization and Innovation, Tax, Labour issues and other work groups.