April traditionally in Latvia is a birch juice season and we truly hope you all get to enjoy this wonder! Here at FICIL it brings long awaited energy and strength as we prepare for the upcoming 22nd High Council meeting. Please bear with us and read more detail on all the latest from FICIL.
---
FICIL Member meeting: discussion on 17 May
As a warm up to the upcoming High Council, you are kindly invited to attend FICIL Member meeting – discussion about Trust and Building Trust. Member meeting will be held on 17 May at 16:00 in OraculeTang Space (Doma laukums 2). The distinguished Philosopher Mr Arnis Rītups will join the meeting to give his insights on the concept of trust and its relevance in the world of today. Meeting is for FICIL members only; please register for the meeting by writing to elva.eglite@www.ficil.lv or calling +371 67217201.
---
Update on High Council – 6 – 7 June
 The preparations for the FICIL High Council meeting 2018 are in full swing – please do check-in with Elva for any details you may need to know (elva.eglite@ficil.lv) – she will be happy to answer to all your questions and deal with any concerns you may have. Draft agenda for the meeting is available here.
---
Updates from work groups
Digitalisation
The group focuses on four key aspects of the digital economy in Latvia: digital inclusion of SMEs, E-Services, digitalisation leadership and E-identification. Specific recommendations that are currently being formulated will address all four areas.
Economic and Financial Crime issues
The work group has been looking at improvements since last year. Four main areas are in focus – insolvency, anti-money laundering, shadow economy and tax crime, corruption and bribery. Improvements in AML regulation and Insolvency procedure are on top of the list. Closer cooperation between law enforcement authorities and private sector is a prerequisite for an efficient way forward.
Education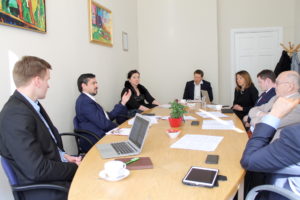 The issue of governance of Higher Education Institutions (HEI) is at the centre of the work group's attention. Similar concerns regarding the governance of HEIs where expressed at the closing conference: "Focus on Performance – Five Years of World Bank Support to Latvian Higher Education Reforms" that took place on 23rd of April. Full report available here.
Energy and Waste management
The work group is looking at beverage packaging deposit system and agrees that now is the time for the government to finally decide on the best possible beverage packaging deposit system for Latvia. The group also works on the Mandatory Purchase Component (OIK) reform and circular economy principles (especially development of refused derived fuel).
Transport
The work group members are exploring proposal of setting long-term c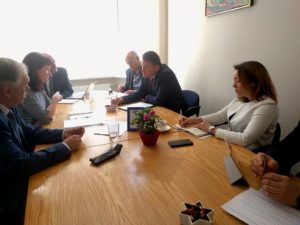 ontracts between the Latvian Railways and industry players. Regarding the Indicative railway infrastructure development plan for 2018-2022 few priorities have emerged, among them, financial means and support mechanism for the plan, electrification project and Rail Baltica project, the Amber Train project and projects in the left bank of Daugava river, the linkage of Plan with 'LDzCargo' activities (cargo transportation). FICIL is also part of the logistics Council and the leader of the work group participated in Logistics Council meeting to stress the FICIL priorities.
---
FICIL in action
Plan for improvement of Business environmen

t
The Ministry of Economy is currently reviewing a plan for improvement of business environment. The first work group meetings on innovation, starting up companies, court efficiency and construction have been already held. In May, there will be meetings on cross-border trade, tax policy and improvements in the field of innovations.  FICIL representatives are actively contributing to amend the plan for better business environment in Latvia.
Recognition from the Ministry of Justice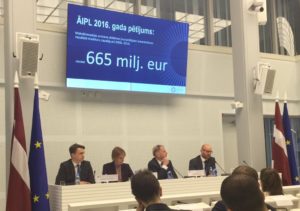 Helmuts Jauja, an active member of the FICIL Economic and Financial Crime work group, is invited by the Ministry of Justice to receive official recognition from the Minister of Justice for his involvement in improving the Insolvency legal regulation.
Discussion on Fair taxation organized by EU Commission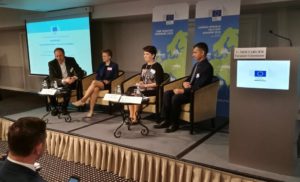 The Chairperson of the FICIL Board Zlata Elksniņa-Zaščirinska participated in the panel discussion organized by EU Commission on fair taxation where she elaborated on FICIL's priorities in the field of Tax policy and administration.
 Discussion forum: Economic developments in Latvia and key challenges
Executive Director Marta Jaksona represented FICIL at the discussion forum organised by the European Commission and Latvian Academy of Sciences where the European Semester and Country report for Latvia was presented. FICIL follows closely the European Semester process and contributes along with other social partners and associations with inputs on specific issues of economic development in Latvia.