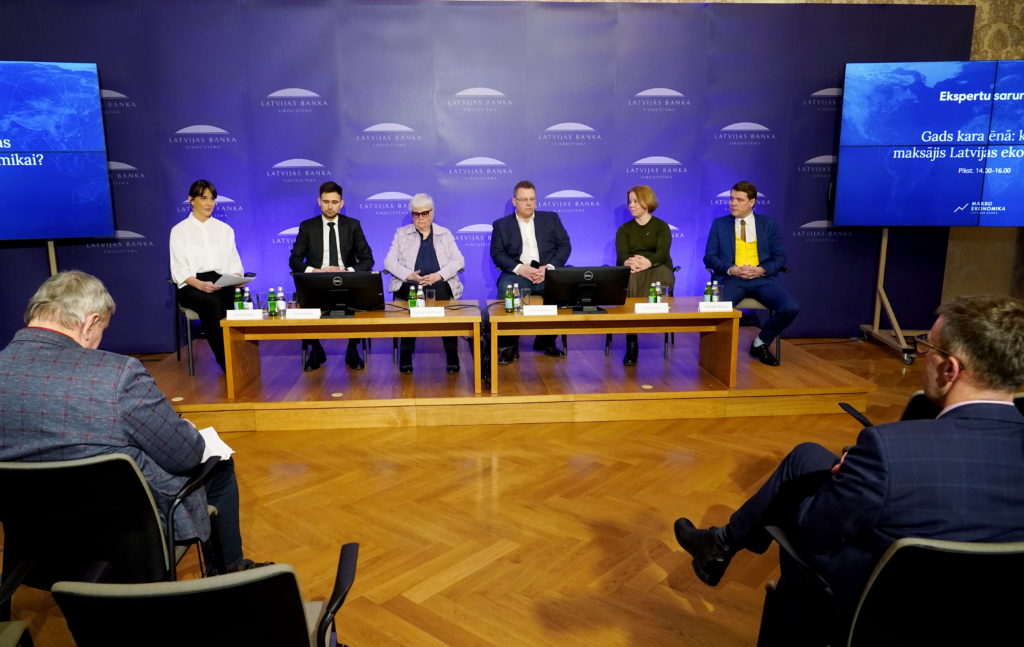 On 8th of March, the Bank of Latvia held an expert discussion "A Year in the Shadow of the War: What has it Cost the Latvian Economy?". The discussion took place at Bank of Latvia premises and was live-streamed on LSM.lv. FICIL Energy & Green Economy work group leader Dace Cīrule represented FICIL during the discussion.
The experts that participated in the discussion included:
Dagnija Blumberga, Energy Expert
Dace Cīrule, Head of FICIL Energy and green economy work group
Ģirts Rungainis, Investment Banker and Business Expert
Kristaps Klauss, Executive Director of Latvian Forest Industry Federation
The discussion was opened by Kārlis Vilerts, Head of Monetary Policy Department's Research Division at the Bank of Latvia, with a presentation on the impact that Russia's invasion of Ukraine has had on the economy of Latvia. The economist shared data on trade with Russia and Belarus, the impact of rising energy prices on Latvia's economy and outlined the negative affect geopolitical situation has had on the already relatively low foreign investment. Afterwards experts continued the discussion on the impact the war has had on behavior of entrepreneurs in Latvia, talked about industries most affected by war and the current situation with availability of energy resources, as well as the latest investment data.
During the expert discussion, Dace Cīrule emphasised the importance that other factors, such as availability of workforce, levels of shadow economy have on investor decisions when investing in a certain country. Ms. Cīrule stated that businesses have done a lot to support Ukraine, including donating as well as employing people fleeing the war. Nevertheless, when discussing foreign investment, it is important to underline that while we cannot avoid the geopolitical circumstances, Latvia however can actively work on improving other factors in the business environment to attract more foreign investors.
When it comes to availability of workforce, FICIL emphasises the need to ensure a unified governance of human capital policy, improve labour availability by changing regulation and easing the process of attracting foreign workforce, as well as focusing on up-skilling and requalification policy. You can read all FICIL positions here.
You can watch the full discussion here.