We are currently busy preparing for the launch of the Sentiment Index research as well as starting the process of position paper drafting. But in the mean time we can look back at the last few months within FICIL.
FICIL elects new Executive Board during the Annual General Meeting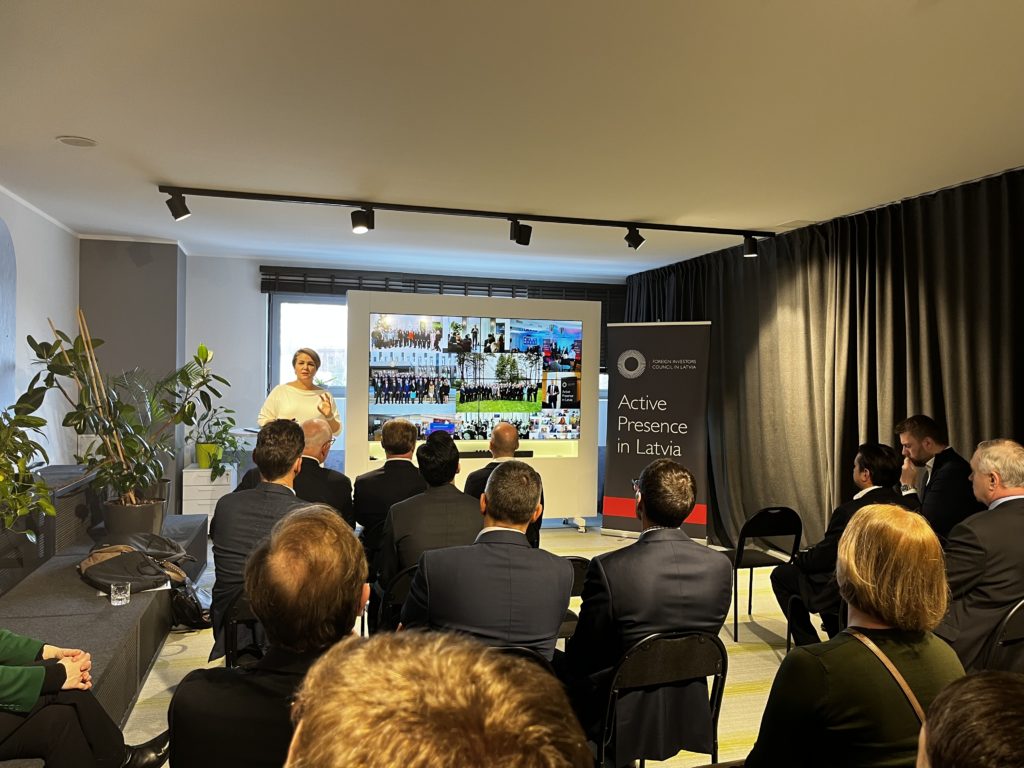 On 7th of March, FICIL held its Annual General Meeting (AGM) looking back at what was done in 2022 and informing members of upcoming FICIL priorities. Guestspeaker included State Secretary at the newly formed Ministry of Climate and Energy of the Republic of Latvia, Līga Kurevska, who outlined ministries priorities for 2023 and need to foster greater sustainability and security of supply. Also, there are three newcomers to the FICIL Board – Ilze Zoltnere, Head of Corporate Department for Luminor Bank, Juris Antužs, CEO and Country Manager at Enefit Green, Māris Vainovskis, Senior Partner at Eversheds Sutherland Bitāns. Iain Kennedy, CEO of BALTA Insurance Company was re-elected to the Board for another term. FICIL extends its sincerest thanks to all the previous Board members!
You can read all about what happened in the AGM and the newly elected FICIL Executive Board here.
Newly elected FICIL Board holds its first meeting
On 22nd of March, the newly elected FICIL Board came together for their first Board meeting to discuss the direction of FICIL for the next year. A Chairperson and Vice-Chairpersons were elected – Zlata Elksniņa-Zaščirinska will continue her role as the Chairperson of the FICIL Board. Reinhold Schneider will continue as the Vice-Chairperson and Līga Abramoviča has been elected as the other Vice-Chairperson.
FICIL work group leaders meet with Minister of Justice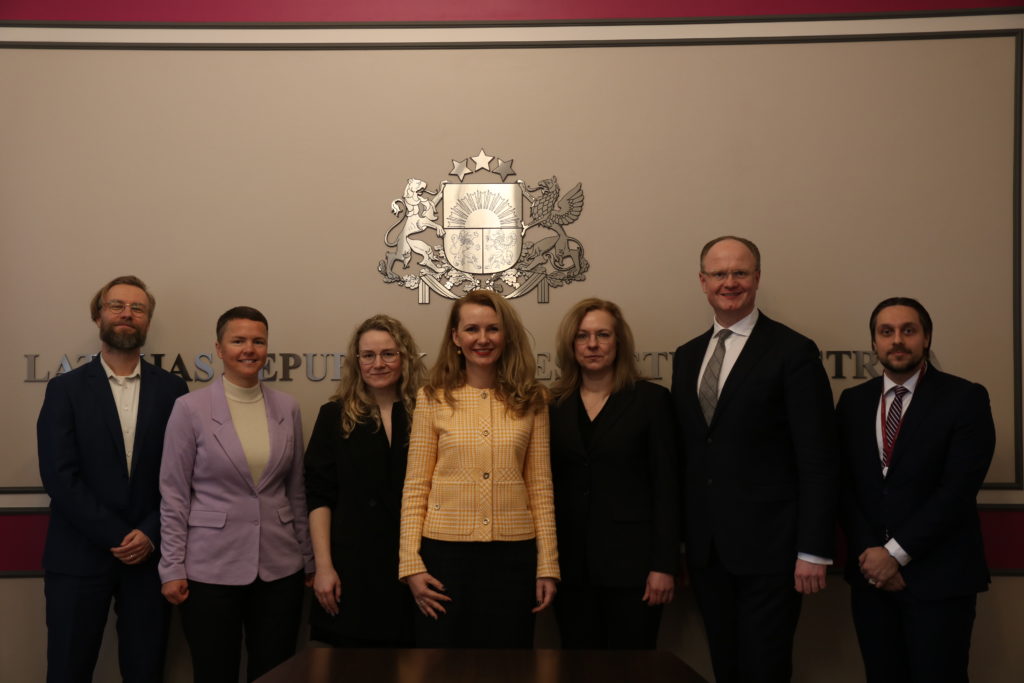 On 16th of February, several FICIL work group leaders met with Minister of Justice, Ms. Inese Lībiņa-Egnere, to discuss various important topics for FICIL members and potential cooperation. During the meeting participants emphasised need for high quality legislation process, effective court proceedings and predictable investment environment. FICIL representatives were interested to hear more about plans to improve the efficiency of courts, strengthening a predictable and stable investment environment, as well as plans regarding an effective fight against economic and financial crimes. Minister of Justice thanked FICIL work group leaders for shining light on issues investors see and for providing practical and rational recommendations.
FICIL recommendations regarding quality of legislation, investment protection and more can be found here.
FICIL participates in Bank of Latvia expert discussion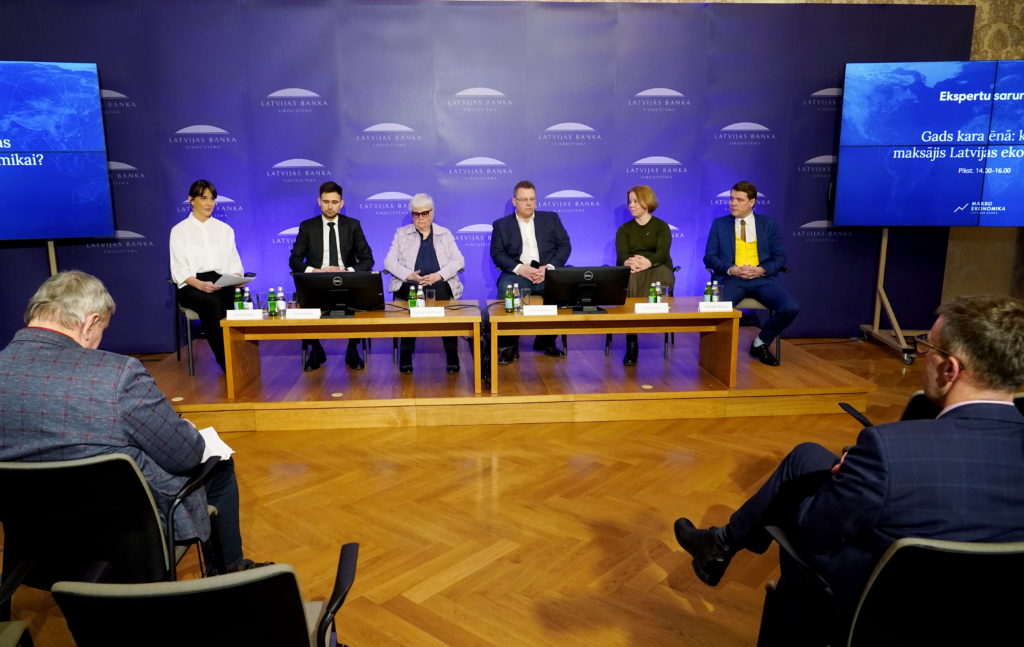 On 8th of March, the Bank of Latvia held an expert discussion "A Year in the Shadow of the War: What has it Cost the Latvian Economy?". The discussion took place at Bank of Latvia premises and was live streamed on LSM.lv. FICIL Energy & Green Economy work group leader Dace Cīrule represented FICIL during the discussion. During the expert discussion, Dace Cīrule emphasised the importance that other factors, such as availability of workforce, levels of shadow economy have on investor decisions when investing in a certain country. Nevertheless, when discussing foreign investment, it is important to underline that while we cannot avoid the geopolitical circumstances, Latvia can actively work on improving other factors in the business environment to attract foreign investors.
Start of discussions on tax reform & reducing administrative burden on businesses
As you have probably heard, the Government is planning to review current tax policy as to asses what reforms are needed in line with creating a more competitive business environment. FICIL has thus far participated in several meetings of the Tax policy improvement coordination group that involves the Ministry of Finance, coalition representatives, SRS and social partners. At the moment, discussion has focused on re-evaluating the personal income tax and measures to reduce shadow economy.
Moreover, FICIL is part of the newly formed team by the State Chancellery, focusing on reducing the administrative burden businesses face. In the most recent meeting, topics such as data availability and sharing of data have been discussed. In the upcoming weeks, the work group will discuss EU fund topics and how to practically impact the administrative burden.
FICIL work groups
February & March
Energy & Green Economy
–  2nd and 23rd of February the first meeting was to internally reflect on the previous meetings and prepare for the upcoming meeting with the Undersecretary of State of the Climate and Energy Ministry, Līga Rozentāle held on 23rd of February. Members learned more about current priorities and planned legislation changes in relation to windfarms and renewable energy.
–  9th of March meeting with State Office for Environmental Oversight to talk about issues and process of Environmental Impact Assessment. However, on 23rd of March work group held an internal meeting to reflect on previous meetings and Position Paper priorities.
–  Green Transport & Infrastructure sub-group met on 2nd of March to agree on next meetings and priorities to discuss in relation to transport sector.
– 17th of March Energy & Green Economy w/g and Green Transport & Infrastructure s/g meeting with Chairperson of the Parliament's Environmental, Climate and Energy Subcommittee Mr. Andris Kulbergs to discuss renewable energy, greening of transport sector and Latvia's progress towards achieving green aims.
Data & Digital Transformation
–  24th of February meeting with Director of the Informatics Department of State Revenue Service, Indra Kārkliņa to learn about progress of automatization and digitalisation within the institution as well as to hear any issues of data analytics.
– 10th of March meeting with Director of the Estonian State Shared Service Center, Pärt-Eo Rannap to learn the experience of our neighbour in centralisation of support functions and their future plans & issues.
Public Sector Reform
– 1st and 13th of March meetings. Firstly, on 1st work group met to discuss the new version of Public Sector Modernisation plan until 2027. Afterwards, on 13th members met with State Audit Office to discuss the Modernisation plans.
Shadow Economy Combatting
– 15th of February meeting with Deputy State Secretary for Tax Administration & Reducing Shadow Economy at Ministry of Finance, Jana Salmiņa to discuss The Shadow Economy Reduction Plan and new regulations to limit shadow economy.
–  1st and 15th of March meeting. First an internal meeting to discuss current issue and reflect on previous meetings, while in middle of March to meet with Latvia Finance Association to talk about private individual debt burden issues and corporate veil accountability problems.
– 29th of March held an internal meeting to discuss the upcoming tax reform and tax guidelines.
– Tax administration sub-group met on 24th of March to discuss issues related to SRS asking large companies to pay the non-paid VAT of their customers.
Fair Competition & Public Procurement subgroup:
– on 27th  of March leader of subgroup and other work group leaders met with Consumer Rights Protection Centre to discuss their upcoming priorities and any institutional issues they are facing.
Upcoming meetings: 
– Labour Force & Requalification work group: foremost an internal meeting on 4th of April to hear current member priorities and a different meeting with Minister of Health, Līga Meņgelsone to talk about FICIL recommendations to improve mandatory health examination process and sick leave certificates.
– Shadow Economy Combatting work group: on 12th of April to continue discussion about position paper recommendations and policies related to upcoming tax reform.
– Energy & Green Economy work group: on 31st of March another meeting with Chairperson of the Parliament's Environmental, Climate and Energy Subcommittee Mr. Andris Kulbergs to continue the started discussion. Internal meeting on 6th of April to continue discussing position paper recommendations and prepare before meeting about climate topics. Group is also looking to meet with Climate and Energy Ministry representatives in mid-April to discuss Climate law and other climate related issues.
– Green Transport & Infrastructure subgroup: looking to meet with Ministry of Transport to reflect on greening of transport sectors and hear proposals that ministry sees about transport sector improvements.
– Data and Digital Transformation work group: on 14th of April to discuss position paper recommendations, upcoming meetings and hear any issues members are facing in relation to digitalisation.
Work groups have published position papers that outline specific recommendations. If you would like to participate in any of the work groups or find out more information, please contact FICIL policy expert Roberts Alhimionoks (Roberts.alhimionoks@ficil.lv)
To find out more, follow us on Twitter and Facebook or visit our webpage www.ficil.lv
-Your FICIL Team